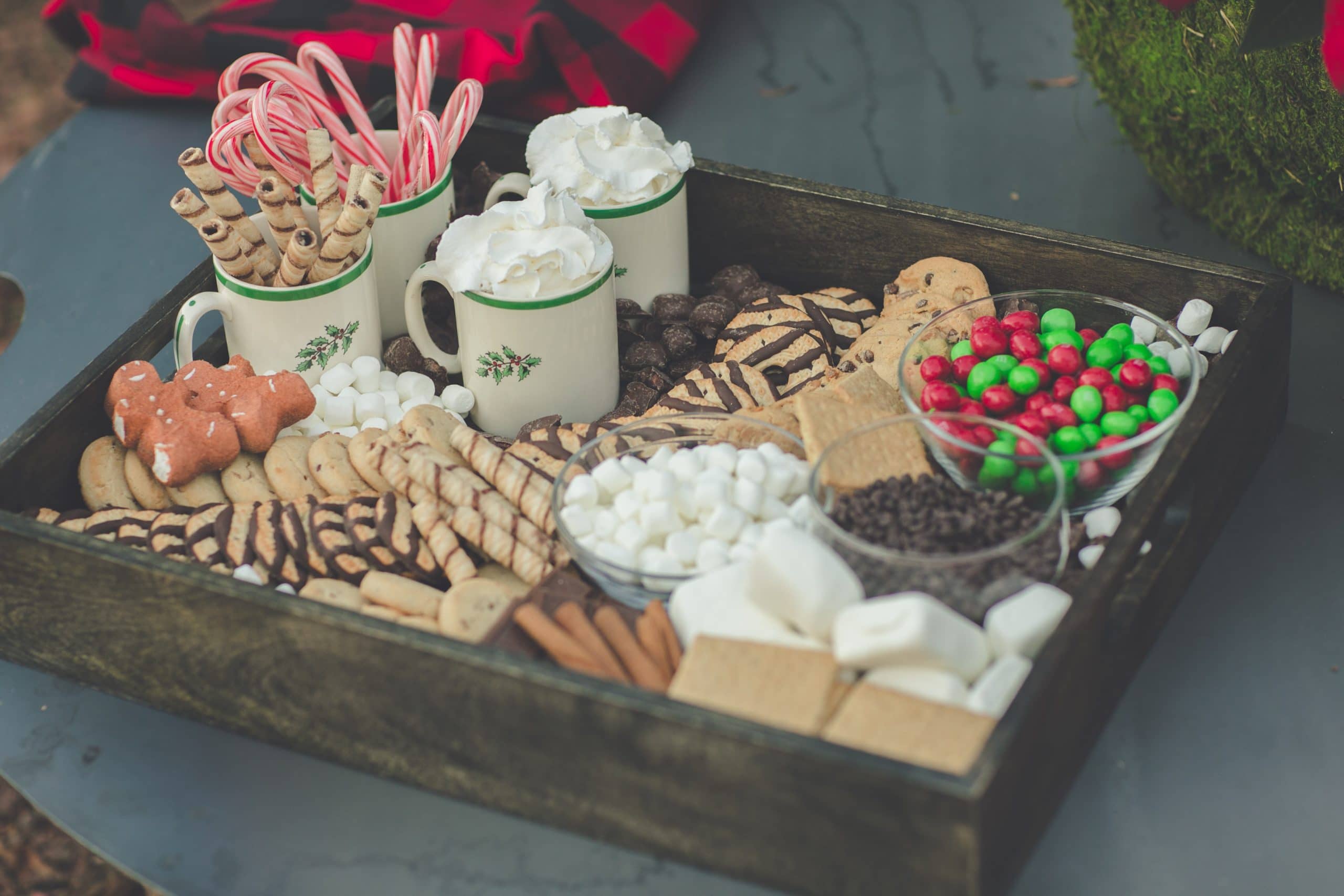 There are many Christmas traditions, from enjoying The Nutcracker to caroling, but some of our favorites happen around the fire pit. It's a time when we are most focused on each other. And while many family traditions remain the same year after year, it's never too late to introduce some new ones. So, here's a list of 10 that foster what we value most – holiday togetherness around a warm fire.
Hot Cocoa and S'mores
Think charcuterie but chocolate. Hot cocoa and s'mores can be as simple or decadent as you can imagine. Add foil-wrapped chocolates, novelty marshmallows, colored sugars, sugarcanes, peppermint, chocolate dipped spoons or whatever seems like a nice mix. Now just stoke the fire pit and exercise a bit of creativity with your treat.
Boardgames
Checked out any boardgames lately? Timeless favorites like Sorry are still popular, but each year new games and varieties hit the shelves, like the massively popular Ticket to Ride.  Whether it's Chess or Go Fish, board games exercise strategy and conversation. So, breakout the games and enjoy the time together.
Grandmother's Cookies
Who can resist a cookie? Ones from a treasured family recipe are even better. Grandmother knows this; that's why she's been making them for years. This holiday, if you haven't been already, make some from a recipe that reminds you of mum.
Eggnog & Bourbon
A great tradition, because when else is this even an option? Pick up some eggnog, add an ounce of whiskey or bourbon and a scant of nutmeg, and savor. Not sure why, but this tastes best in a Christmas wine glass by the fire.
Christmas Socks
Christmas jammies are one thing, but socks can bring whimsy any and every day of the season. Added Bonus: socks are a swell conversation starter when your feet are propped up by the fire. Add a new and fun pair to your collection each year!
Christmas Eve Seafood Gumbo
What makes this tradition a no-brainer is that the roux and stock can be prepared earlier in the day. In the evening, just reheat, add your seafood, gather around and enjoy! Make a big pot and splurge on the seafood. After one year, your family will beg for it every Christmas Eve.
Music
Guitar music and a warm fire. Absolutely worth the cost of a few guitar lessons. Elect your tribute and get started.
Flavored popcorn
Butter, caramel, spiced sugar, poppycock. You get the idea. There are many recipes online to try out and Christmas season is the perfect time to give it a go.
Holiday Pictures
As we get busier, family group pictures are harder to come by. The Christmas picture is a great tradition that you'll be happy you've adopted. We also love the idea of keeping all the family holiday pictures in one keepsake box. That way, you can easily revisit older pictures each year.
Annual Christmas Party
Mash together any or all of the above traditions, add more people, a Seasons Fire Pit, and celebrate the season.