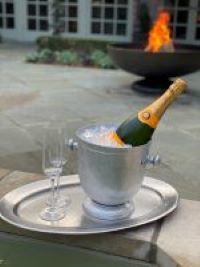 The Perfect Valentine's Day Recipe for Date Night
Valentine's Day, a day for romance, warm hearts, and a surplus of unconditional love. You're probably asking yourself how you might spark things up this Holiday. Perhaps, going with the traditional box of chocolates, expensive dinner, and flower bouquet has been exhausted.
This year, why not create an outdoor dining experience with your loved one, complete with candles, string lights, flowers and a fire pit? Set your table with your favorite china, silverware and crystal. Surround your fire pit with comfortable seating, cushions and blankets. Hire a private chef to cook a special meal or pick up dinner from your favorite restaurant. Next, consult your local wine store to match wines to your menu or possibly, you have a special wine in the wine cellar you have been saving for a special occasion. Start the evening with a charcuterie tray and end with champagne and chocolate strawberries or a port that would pair nicely with s'mores for dessert.
As the night reaches a conclusion, make sure you snuggle up to your loved one and enjoy the ambers dancing in the moonlight.