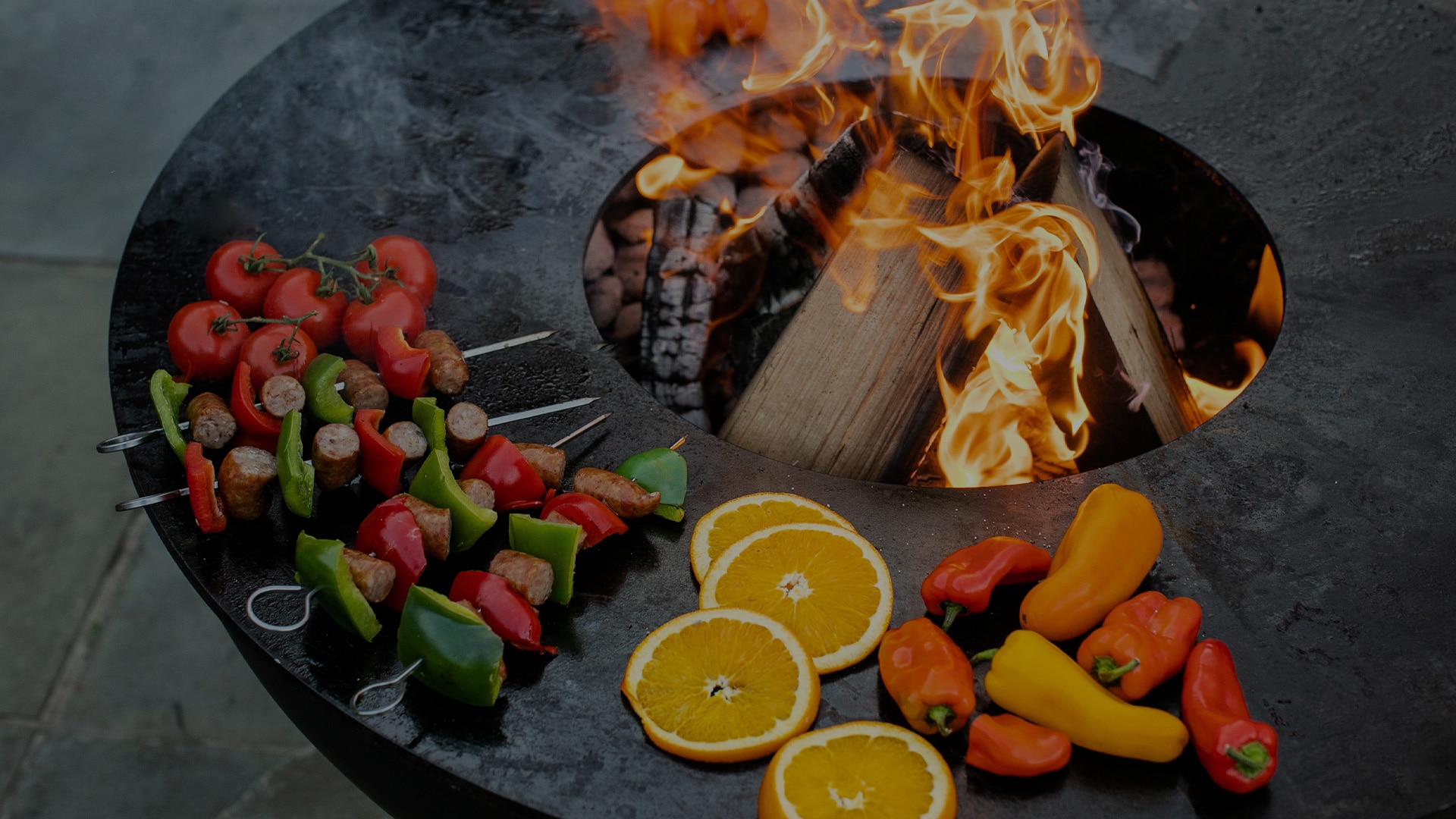 Fire Pit Grilling: Bringing people together with fire and food
Fire pit grilling is sublimely simple and decadent at the same time. Get your ingredients right, a good bottle of wine, great company, seasonal vegetables and savories, and you're on your way to curating one memorable, lovely evening. And if you enjoy outdoor entertaining, The Fire Table by Seasons Fire Pits makes it an easy evening to repeat. Each time, your guests will enjoy the experience of grilling over an open fire and the savory menu the open fire grill will provide.
Here's how it works. Wood-fire cooking on The Fire Table involves grilling food on the flat steel surface. The cook ring is heated by the fire's flames, which are fed by open air.  This way of cooking brings out more rich flavors- grilled vegetables and fruits often taste sweeter due to the caramelized sugars from the char. Savory meats retain their moisture from the quick sear, and aromatics like thyme and rosemary impart additional flavor.
Heat is controlled, much like a traditional grill, based on coal placement and heating time. Place your hand several inches above the ring and determine your cool and hot spots for slower or quicker burns. Then preseason the grill with a bit of oil and a rub of some herbs before cooking.
The time-tested cooking method coaxes flavors from out of this world and is ideal for foods like steak, kabobs, bacon, roasted corn, flatbread, brie, tomatoes, and seasonable vegetables. Once you've enjoyed your meal, just scrape the tidbits from the Open Fire Cook Ring with a spatula and wipe it down for its next use.
When you're not cooking, the fire pit, sleek and modern, makes a handsome addition to anchor any landscape design. It's a high-design statement piece – a work of art, that only gets better with the rich iron oxide patina brought by age. Built to withstand the demands of outdoor cooking in all seasons, the fire pit can be used with or without the cook ring, as a decorative pit or as a grill.