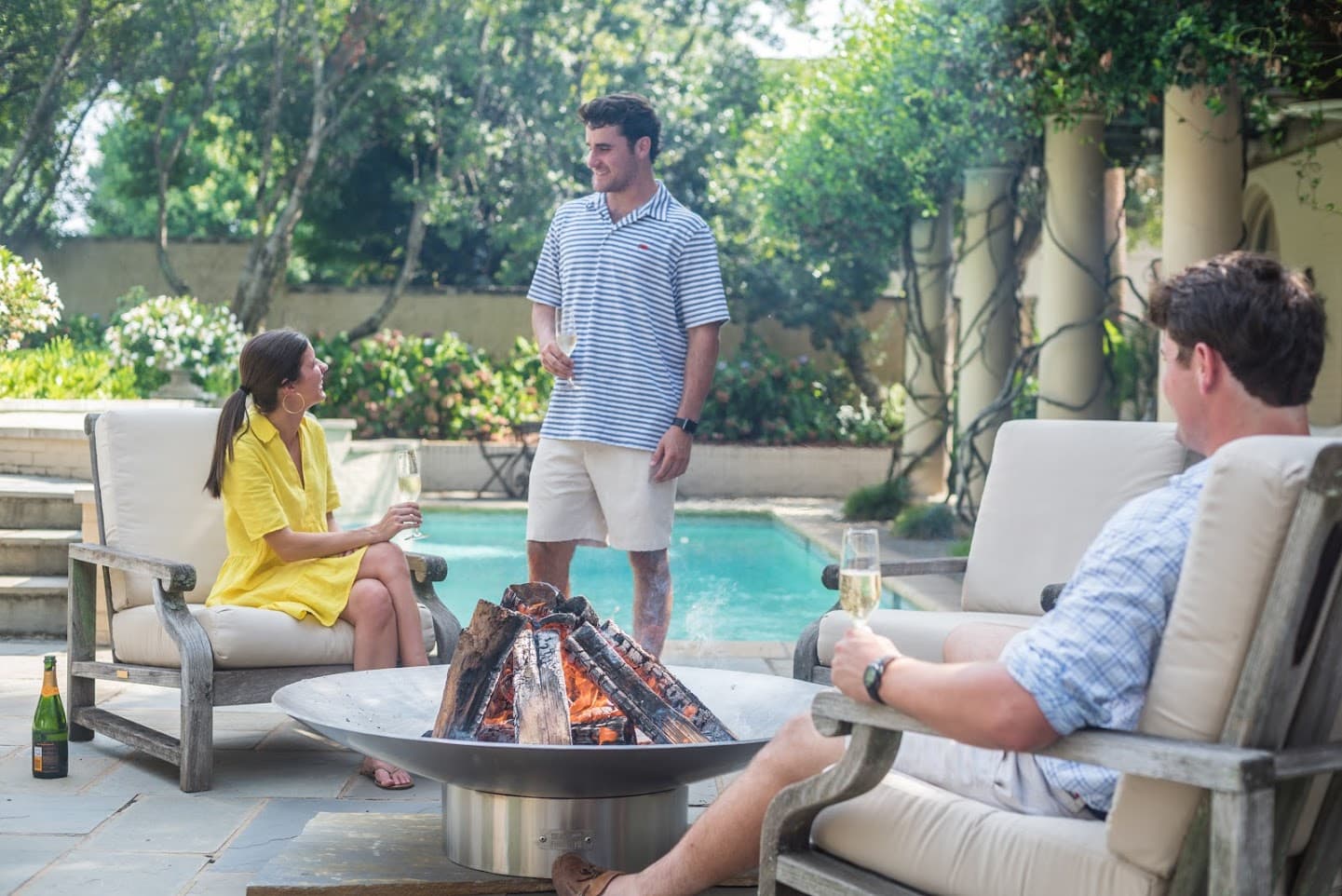 Late Summer Wine Tasting with Seasons Fire Pits
Light the Seasons Fire Pit Grill and seize the lull between summer travel and fall
festivities. The air has begun to cool in the evenings, the sunsets are richer, and the
moment is now to enjoy a late summer wine tasting. All you need is a guest list, food,
and wine. The Fire Pit Grill provides the anchor, a display of colorful vegetables, savory
bites, as well as culinary entertainment. It lends the perfect combination of
approachable comfort and sophisticated elegance.
For the grill menu, select foods that vary in color and texture like crisp sugar snap peas,
bright cherry tomatoes, lemon slices, peppers, parboiled potatoes with fresh herbs,
baby carrots, seasoned savory meats, and seafood. All pair well with a variety of wines
and are easily suited for Seasons Fire Pit Grill with Open Fire Cook Ring. The flat
surface of the Cook Ring means you can use skewers or cook directly on the ring, and
the size allows you to prepare multiple samplings at the same time.
The wine selection might be most intimidating part of your planning. We recommend
including at least one chilled aperitif, such as a Prosecco, to whet the appetite, and in
the summer at least one good, chilled rosé. While it's known white wines need a chill,
red wines are ideally served between 65 and 72 degrees, cooler than an average
summer evening. Lighter-bodied wines with higher acidity, like Cabernet Franc, prefer
lower temps. For your summer wine tasting, place those in the refrigerator for 90
minutes before serving. Fuller-bodied, tannic wines like Bordeaux and Cabernet
Sauvignon taste better a bit warmer, so keep them to just 45 minutes in the fridge.
For inspiration, we are happy to share our recent selection of great summer wines,
curated with Jennifer Bologna of Spirits, and notes as a guide to get you started.
Bisson Glera Prosecco
"In a sea of vapid, overly sweet Prosecco, this frizzante stands out proudly. Made using
careful temperature regulation to preserve delicacy and freshness, the wine is bottled
with just two grams per liter of residual sugar – a refreshingly bone-dry offering that
stands in sharp contrast to its many cloying peers. Clean, bright, and refreshing, it
presents notes of acacia honey, white flowers, crunchy green apples, and tart
nectarines atop a subtly mineral underlay."
Domaine Triennes Rose
A blend of "Cinsault, Syrah, Grenache, Merlot. Harvested at night so that the grapes are
cool upon arrival in the winery; pressed after a few hours of skin contact; and fermented
at low temperature until dry. This wine has a bouquet of strawberries and white flowers
with hints of vanilla. It has the harmony and elegance that has earned world-wide
appreciation of the rosés of Provence. Triennes Rosé is the perfect accompaniment to a
sunny summer afternoon."
Jax Vineyards Y3 Taureau Red Blend
A blend of "55% Cabernet Sauvignon, 40% Merlot, 5% Cabernet Franc. Medium
bodied, luscious, and approachable, the Taureau Red Blend is in pitch-perfect balance.
The supple, voluminous entry cascades into beautifully rich and integrated flavors of
ripe raspberry, black plum, and baking spices. This wine is a lovely blend of Cabernet
Sauvignon, Merlot and Cabernet Franc are sourced exclusively from Napa Valley
vineyards."
Ridge 3 Valley Red
A blend of "72% Zinfandel, 14% Petite Sirah, 10% Carignan, 4% Mataro. Sonoma,
California- Shows aromas of blueberry pie and toasty dill, with concentrated plum,
licorice and smoky pepper flavors that are wrapped in muscular tannins." "Deep garnetred color. Aromas of ripe raspberry and cherry fruits, fresh mint, exotic spices, with clayearth minerals. Beautiful briary fruits on entry, medium-full body, integrated tannins, and
great persistence to the finish."
Whatever the choice, punctuate the pause between summer and fall with a late summer
wine tasting and a Seasons Fire Pit Grill. It's a wonderful way to create a beautiful,
memorable evening. Thoughtful selections will elevate the menu; Seasons Fire Pits the
ambiance.
Visit Our YouTube Channel for a Late Summer Wine Tasting with Seasons: