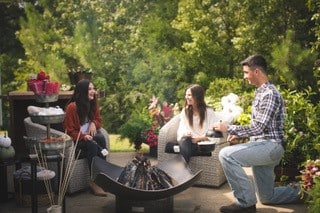 Fire Pits, Football and Other Things that We Love about  Autumn
From gathering around the fire pit to collecting fat pumpkins, autumn presents a myriad of ways to celebrate the change of seasons. Here is a few of our favorites:
Tailgating: With football arrives tailgating, and it's at its best with the start of fall. The cool breeze, pageantry of color, and banquet of good food and conversation can't be beat no matter how your team performs.
S'mores: Available any time of year, this campfire delicacy is sweet, warm, and happily gooey. Its standout trait, however, is its communal aspect. S'mores are a group endeavor, each of us melting that marshmallow to our own preferences, enjoying the simplicity of the treat and time well spent together.
Whiskey Sours: Maybe it's because oranges begin to ripen late September, or maybe it's the color, warmth, and smoothness found in whiskey, but whatever the reason, the Whiskey Sour makes another great herald of autumn. Made of whiskey (often bourbon), freshly squeezed lemon juice and simple syrup, it is served over ice with a  large juicy wedge of orange.
More time outside: Fall weather brings us outdoors and whether that means sitting on a blanket basking in the sun, enjoying a picnic, or burning some energy in a spirited competition of flag football, hiking, biking, or what have you, we all relish making the most of the cooler temperatures.
Seasons Fire Pits: Nothing draws you in to enjoy a crisp fall day better than a welcomed fire in a Seasons Fire Pit. It's where the conversation ignites, the guitar is strummed, the food and drink savored. And as the days get cooler, the Seasons Fire Pit will extend the time you can spend outdoors enjoying the relaxing ambiance and warmth of the fire.
The common thread? The best things in autumn involve sharing time with family and friends. And the best way to elevate any of these experiences is with the Seasons Fire Pit. Its graceful lines add style and balance; its warmth invites all to stay and savor the moment.