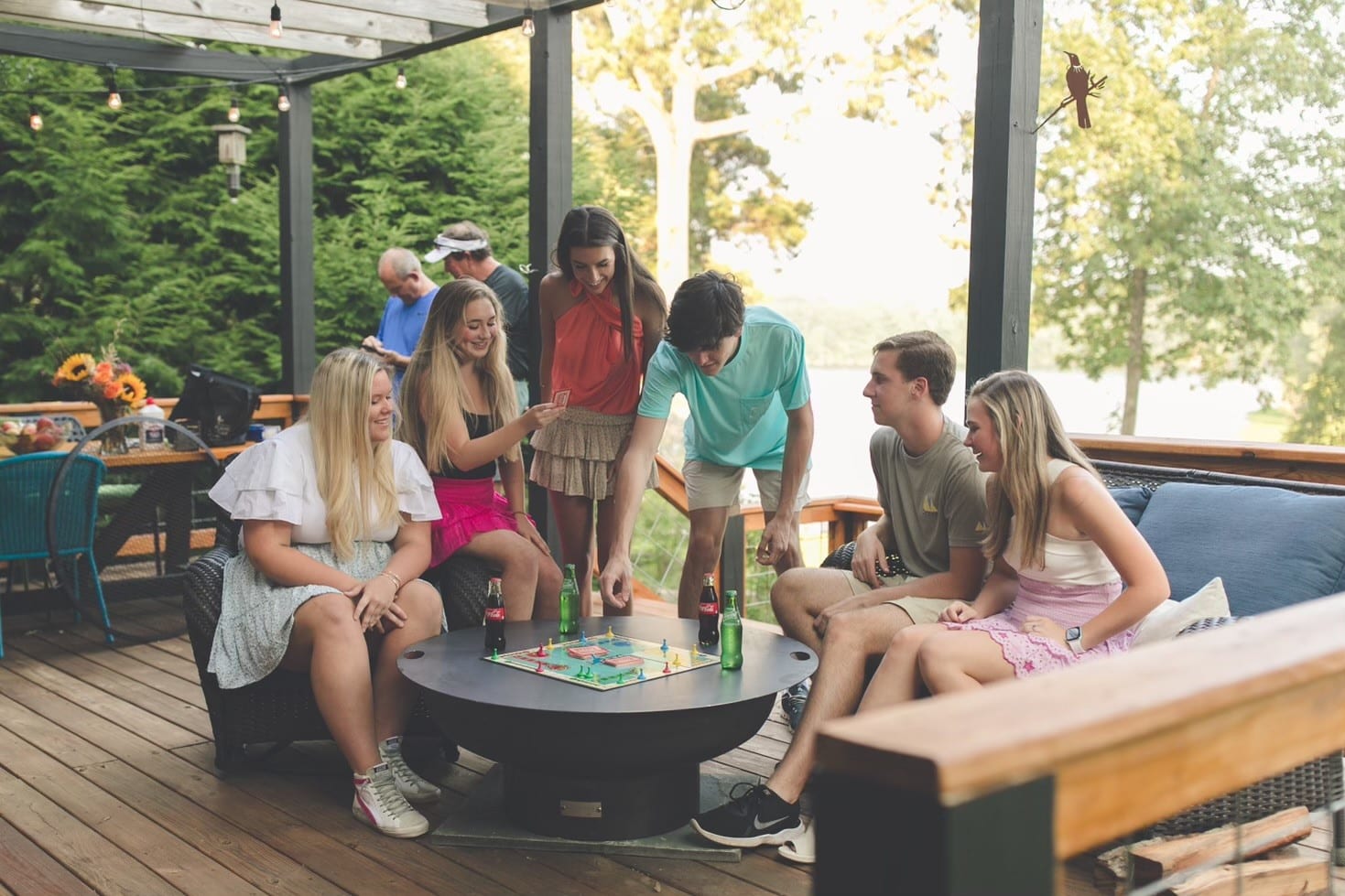 Your backyard is an extension of your living space, a place to gather, share time together and create new memories. And while we love to cozy up to a warm fire on crisp evenings, the Seasons Fire Pit delivers way beyond creating light and warmth. Its graceful lines and soft patina create a visual anchor, perfect for the chilled ice bucket, a spray of flowers and delectable snack. On these warmer days, we've been known to fill our fire pit with ice and cool drinks or pop on the Season Fire Pit Lid and gather for a round of board games. With the addition of the Open Fire Cook Top Ring and the Fire Pit Lid, the opportunities to enjoy your Seasons Fire Pit increase tenfold.
The Fire Pit with Open Fire Cook Top Ring brings a welcomed revisit to alfresco dining. The flat surface and open flame create new possibilities and inspire fresh takes on how to grill beyond the smoked-and-slow-roasted. With the grill top, you can now explore flavors such as seafood not as easily suited for the barbecue, like shrimp, scallops, or delicate fish, quick seared cuts of meat like flank steak or filet, roasted tomatoes and fresh vegetables, herbs, eggs, poultry, softened cheeses. There's really no end to the ability to pair flavors and explore new creations on the cooktop. Additionally, the cooktop is expansive, allowing multiple pieces to be prepared at the same time. And like a traditional grill, cleanup is a breeze. A quick scrape and rub and you're done with the cleaning on to the enjoying.
The Fire Pit Lid converts the fire pit into a sleek, handsome tabletop. While we often use it to offer refreshments, we love how well it doubles as a game table. The height, size and circular shape make the perfect setting for a round of cards or tried-and-true board game like Monopoly or Sorry, or newer hit such as Catan or Ticket to Ride. Most board games are suited for 4-6 guests – and have the unique potential bring generations together and inspire new conversations. For inspiration, here's a few new board games on the market worth exploring this summer:
Betrayal at House on the Hill (3rd edition): Gameplay is drenched in tension. The setting is revealed room by room and is sure to appeal to thrill seekers and those who love the unpredictable.
Wingspan: This game is extremely relaxing, focusing on strategy but without the pressure that often goes along with it. Clever mechanics and beautiful art keep players coming back to increase their scores.
Ticket to Ride: Thoughtful and relaxing, this game is great for all ages and has the perfect balance of being family-friendly without losing any tactical depth.
Whether you gather for food and drink or an exploration into a board game, Seasons Fire Pit accessories will help extend your back yard experiences through the summer. After all, the gift of Seasons Fire Pits is its ability to bring family and friends together for great conversation and time well spent – and that should be enjoyed year-round.