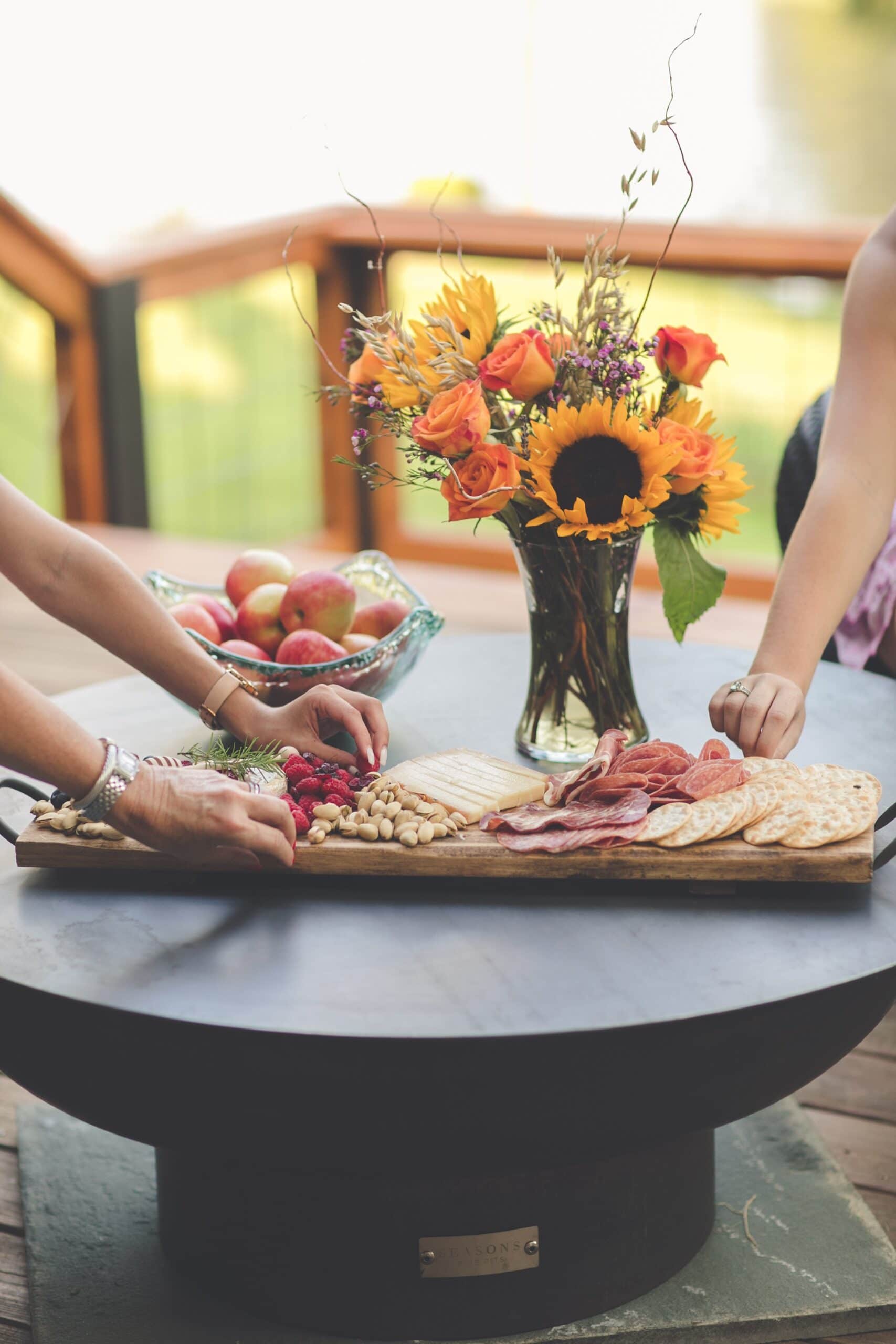 Charcuterie Boards and Seasons Fire Pits Save The Day
Let's set the stage: You just found out company is dropping by in 30 minutes. This leaves you in a crunch to throw together the perfect entertainment and setting. One of our favorite things about a firepit from Seasons Firepits is how quickly it can transform a gathering into a welcoming spot to linger and create great memories with friends. When company drops by, head outside to enjoy a savory Charcuterie board, easily setting the stage using our firepit lid. Charcuterie boards have become increasingly more popular. Their versatility and attractiveness explain its appeal. Here's a list of go-to items that store well and the formula to make the magic happen!
Platter
One or two platters including but not limited to: a wooden board, nice cutting board, slate, or marble slab
Cheese
Pick a variety of cheeses
Firm: Manchego and Gruyere
Aged: Cheddar and Gouda
Soft: Brie, Chevre, and Havarti
Blue: Gorgonzola and Stilton
Bread and Crackers
Pick an assortment that matches each chosen cheese
Sliced baguette
Breadsticks
Table Water crackers
Meat
Often seasoned with smoke, liquor, wine or other seasonings, read the labels to find a variety of flavors!
Salami
Prosciutto
Nuts
For a twist of flavor– Bourbon candied pecans/ toasted coconut almonds
Candied pecans or walnuts
Pistachios
Almonds
Cashews
Macadamia nuts
Sweet
This pop of color and sweet flavor brightens any board!
Pick your fruit options and sprinkle or place sporadically around spread
Grapes
Raspberries
Blackberries
Sliced Pear
Sliced Pomegranate
Dried Apricots
Dried Cranberries
Chocolate covered coffee beans
Shaved Chocolate
Other
Place these in small bowls around the spread!
Honey and cream cheese mixture
Fig jam
Red pepper Jelly
Sun dried tomatoes
Artichokes
Olives
Pickled Okra
Antipasto Salad
Pro tips:
Add rosemary on top of a cheese for a pop of color
Use a wine glass rim to shape thinly sliced meat into a flower pattern:
Layer meat slices around rim until full
Turn glass upside down to reveal flower shape
Remember your Charcuterie board can be as complex or simple as you want! Whether you have 20 items or three, a Charcuterie board is always a great addition and unanimously appreciated!