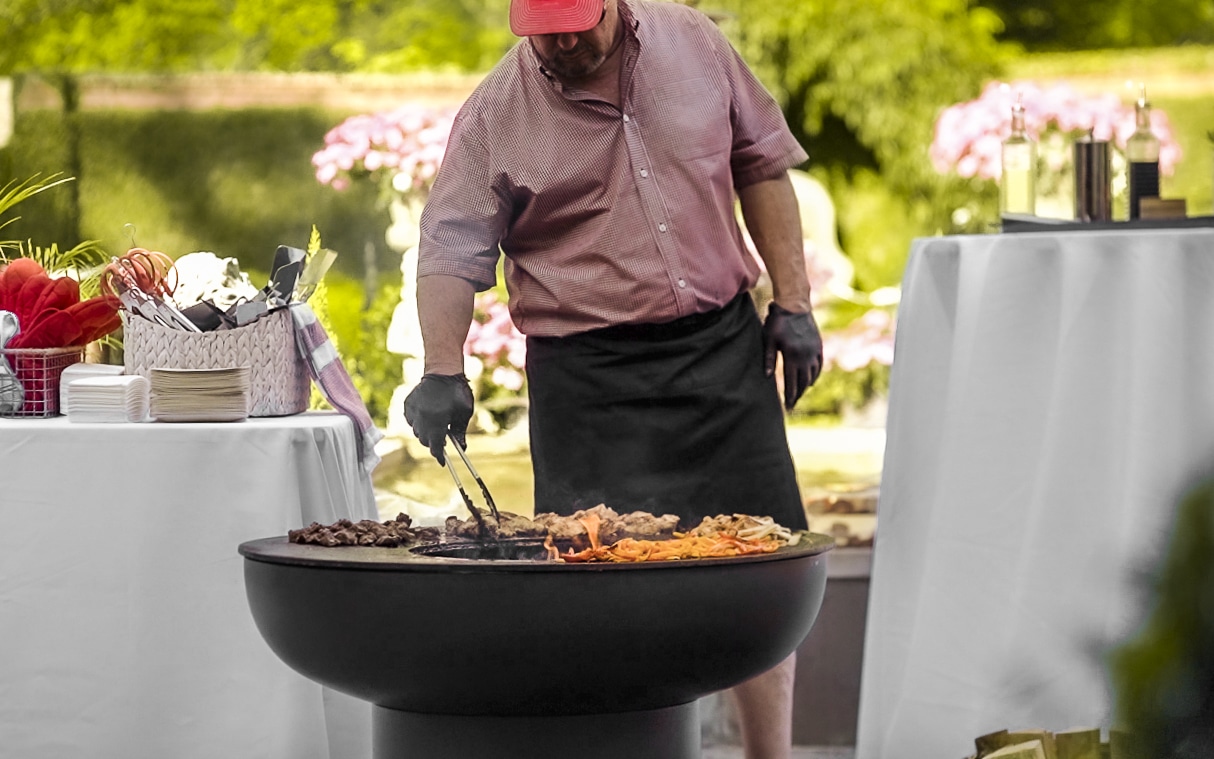 Fajitas on The Fire Pit Grill
Whether it's Father's Day or a meal with great friends, Seasons Fire Pit with Open Fire Cooktop makes for a sublime evening.
We invited Robbie from Crimson Smokers to share his expertise and techniques for open fire grilling. He loves the versatility and ease of using the cooktop ring, and we couldn't agree more! He demonstrated making a few of his favorite recipes, and we wanted to share. The simple ingredients and seasonings are easy to prepare and always prove delicious. Here's Robbie favorite way to prepare fajitas on the grill.
Fajitas Inspired by Robbie
Steak:  Prepare your steak by cutting it in fajita-style strips and marinate in teriyaki sauce, overnight if possible.
Chicken: Cut the chicken in manageable pieces and marinate for 30 minutes in a bit of olive oil and fresh lime juice with seasonings. Robbie recommends a combination of cumin and chili powder along with "Robbie Rub," which is 2 parts garlic pepper, 1 part seasoning salt, and 1 part Tony's Cajun seasoning.
Vegetables: Sliced onion and colorful bell peppers
Prepare Fajitas: When the Seasons Fire Pit Grill Open Fire Cooktop has reached optimal temperature, add a bit of cooking oil. To test the heat, place your palm a few inches above the ring. You should be able to feel the radiant heat. Next place your steak, chicken and vegetables on the grill. Cook for about 5 to 10 minutes and remove once cooked. The chicken pieces should be firm to the touch and cooked thoroughly.
Finishing Touches:  Add a bit of chopped cilantro and serve with tortillas. Sour cream, guacamole, Pico de Gallo, and salsa are optional additions.
Cooktop Cleanup: It is easy to clean Seasons Fire Pit Grill with Open Fire Cooktop; it just takes three easy steps:
Douse the cooktop with alcohol to sanitize the grill
Scrape away bits of food with a spatula
Lightly coat cooktop with oil using a paper towel held by tongs
For recipe on YouTube see the link below: