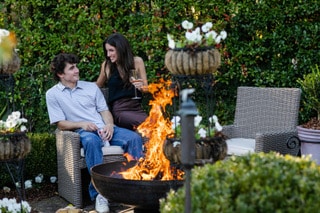 Elevate your Valentine's Day with a Butter Board by the Fire Pit
What says "I love you" more than time well spent together? A long conversation over a good bottle of wine made even better by the light of a warm fire. With Seasons Fire Pit, you can repeat the experience over and over. It is lovely as it is –with just the simplicity of the fire, but the beauty of a Seasons Fire Pit is that it sets the stage for a myriad of experiences. Picture a wine tasting, guitar strumming, a gathering of friends. Each is elevated by the warmth and beauty of a Seasons Fire Pit.
With the approach of Valentine's Day, we thought it'd be fun to explore a new experience that's perfectly matched for an evening around the Fire Pit – The Butter Board. This latest trend in charcuterie boards is as delectable as it gets.
How to get started:
Like a charcuterie board, the butter board starts with whatever board you have at hand: a cutting board, pizza palette, appetizer board, as long it's roomy enough for your chosen ingredients. Just remember that some boards might impart flavor (cedar) or be too porous. A hardwood, like American Cherry, maple, or teak is best.
Toppings:
Butter is the star of the show. You can use salted or unsalted. Just allow time for it to soften and then use a wooden utensil to spread butter across the board. You can whip up some dips and peaks to create pockets for additional toppings.
Then add your favorite toppings (the options are endless) and some good crusty bread! Here's a few of our favorites to get your creativity started:
Sweet: Honey, walnuts, blackberries, and apricot jam, pomegranate seeds, figs, pear
Savory: mushrooms, olives, crushed nuts, bacon, strips of prosciutto, parmesan shavings
Color: green onions, red onions, olives, sun dried tomatoes, pimentos, roasted peppers
Herbs: mint, thyme, rosemary, parsley, cracked fresh pepper and salt
Dressing: drizzle of balsamic vinegar, quality olive oil, flavored vinaigrettes
Combine your favorites:
From here, get creative. Often sweet pairs well savory. Consider the sweetness of a fig combined with the savory saltiness of prosciutto, or blackberries drizzled with balsamic vinegar. Combine colors for impact. For Valentine's Day consider pomegranate seeds, raspberries, strawberry preserves drizzled with a strawberry vinaigrette.
Don't worry about your fire pit melting the butter too quickly. If you're a couple of feet away, it will last long enough, because it sure to be devoured!