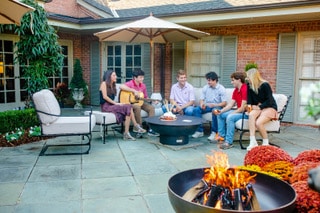 Making Memories With Seasons Fire Pits
Picture this:  The seasons have just started to change; the days are getting warm, but the nights are still cool. You take advantage of the warmth of the sun with a leisurely, much anticipated pontoon cruise with all your closest friends. At the end of your excursion, you start your Seasons Fire Pit for a bit of warmth. The setting is a patio overlooking the lake; string lights and the sunset reflect the warmth of the fire. You have a little sun on your cheeks and you're in comfy clothes. You've got the warmth, your friends, the ambiance – the only thing missing is music.
The end of a perfect day deserves only the most perfectly curated list of songs. Not just a list of great ones – a list of songs that are meant to be sung around the fire made even better with a friend who plays the guitar. Here's our suggestions to get you started. A list of 30 singable songs ranging in styles to appeal to different tastes:
Ooh La La – Faces
Tomorrow – Shakey Graves
Home – Edward Sharpe & The Magnetic Zeros
Leaving, On a Jet Plane – John Denver
Wagon Wheel – Old Crow Medicine Show
Margaritaville – Jimmy Buffett
Fire and Rain – James Taylor
Brown Eyed Girl – Van Morrison
(Sittin' On) the Dock of the Bay – Otis Redding
You Should Probably Leave – Chris Stapleton
Walking Back to Georgia – Jim Croce
Freakin' Out On the Interstate – Briston Maroney
Follow You to Virgie – Tyler Childers
Don't Think Twice, It's All Alright – Peter, Paul and Mary
It's A Great Day To Be Alive – Travis Tritt
Sweet Caroline – Neil Diamond
Colder Weather – Zac Brown Band
Landslide – Fleetwood Mac
Rivers and Roads – The Head And The Heart
Someday (Maggie's) – Zac Bryan
Honorable Mention
Free Fallin'- Tom Petty
Take Me Home, Country Road – John Denver
Ripple – Grateful Dead
Good Riddance (Time of Your Life) – Green Day
The Blues Man – Hank Williams, Jr.
Yesterday – The Beatles
Our Song – Taylor Swift
Alabama Pines – Jason Isbell and the 400 Unit
Atlantic City – The Band
Kansas City- New Basement Tapes
What we love about this list
The songs are recognizable, easy to sing, render well acoustically, and most importantly, are irresistible. Once started, you can't help but join in!
What we love about this idea
A lot of magic happens when we gather around a warm fire and good song. To begin, a bit of bonding happens when we join in song. It's a shared experience. Secondly, it's memorable. So often music is piped in through speakers or phones. When we stop for this shared experience – well it's extraordinary. Start with the Seasons Fire Pit as your anchor, add friends and the magic of song, and the result is one you'll want to repeat.